This past weekend I spent two grueling days knee-deep in watercolor.  Wendy Artin, a fabulous artist and lovely person, was our instructor, at Glen Kessler's Compass Atelier.  Talk about 'alla prima' painting!  She dives right in – no rough sketch, no gesture drawing, no nothing — just her eye, her paint & her brush to guide her relentlessly down the sheet of paper.  Her tonal nudes, in which she paints ONLY the 'shadow shapes' yet leaves you believing the whole body, are exquisite.  Her colorful fruits & veggies are more fully rendered, but are also beautiful & light.
Here's one of her nudes:

And one of mine — a half hour pose during the workshop (quite a difference, yes??: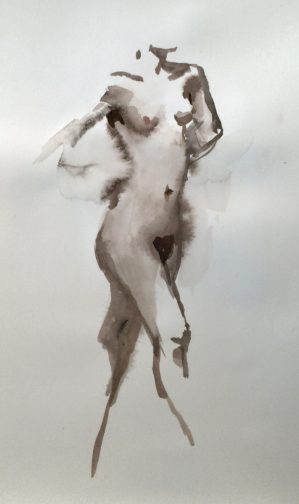 I was VERY happy to be able to switch to vegetables in the afternoons!